Charles W. Stuber, Jr., also known as Chuck Stuber, is a former FBI Special Agent best known for his work on several high profile corruption cases, former Chief Investigator for the North Carolina State Board of Elections, and a current political candidate for the position of N.C. State Auditor in the 2016 election.
Early Life
Stuber was born on March 23, 1960, in Lincoln, Nebraska, to Marilyn Cook Stuber and Charles W. Stuber. Stuber's parents moved to Raleigh, North Carolina in 1961, and Stuber grew up in the Raleigh area. Stuber attended Frances Lacy Elementary School, LeRoy Martin Jr. High School, and graduated from Broughton High School in 1978.
Education
Stuber attended N.C. State University and graduated Summa Cum Laude with a Bachelor of Arts degree in Accounting in 1982. Stuber was inducted into the honor societies of Phi Kappa Phi and Omicron Delta Epsilon. Stuber passed the Uniform CPA Examination in 1982 and became a licensed Certified Public Accountant (CPA) in 1989 through the State of Texas. Stuber is also licensed as a CPA in North Carolina. Stuber attended the UNC-Chapel Hill Law School and graduated with a Juris Doctor degree in 1985. Stuber passed the North Carolina Bar Exam in 1985 and was admitted to the North Carolina State Bar that year. Stuber received the Certified in Financial Forensics (CFF) credential from the American Institute of Certified Public Accountants (AICPA) in 2010.
FBI Career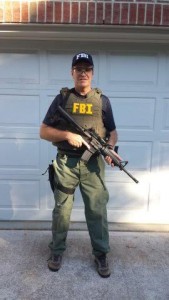 In August, 1985, Stuber received an appointment to be a Special Agent for the Federal Bureau of Investigation (FBI). Upon graduation from the FBI Academy, Stuber was assigned to the FBI's field office in Denver, Colorado.
While serving in the Denver FBI Office, Stuber investigated a wide variety of criminal matters varying from bank robberies, fugitive cases, murders and violent crimes, to complex white collar crime cases. Stuber was the FBI Case Agent on three multimillion dollar Ponzi scheme cases. One of the cases, a $316 million Ponzi scheme perpetrated by an individual named James Douglas Donahue, was the largest investment fraud case in Colorado history at the time.
Another one of the Ponzi scheme cases involved one of Colorado's most notorious criminals, Thomas Chilcott, who had previously been prosecuted and convicted on a massive investment fraud case.
While serving in the Denver FBI Office, Stuber was selected for the division's Special Weapons and Tactics (SWAT) Team. As a member of the SWAT Team, Stuber participated in numerous high risk arrests and crisis situations. Also while in Denver, Stuber served as the division Fitness Coordinator, Assistant Legal Advisor, Relief Supervisor, and a member of the applicant board that conducted interviews of prospective Special Agent Candidates. Additionally, Stuber handled audits of undercover operations and other division financial accounts.
In 1992, Stuber was transferred to the FBI's Washington Field Office (WFO). While in WFO, Stuber served on a task force that investigated the U.S. House of Representatives Bank. The case involved the analysis of bank accounts of over 300 members of Congress and numerous interviews of congressional members and staffers on Capitol Hill. It resulted in the prosecution of several members of Congress and congressional staffers for various forms of criminal activity ranging from election law violations to bribery.
Stuber was the FBI Case Agent on the investigation which resulted in the prosecution and conviction of Donald "Buz" Lukens, a House of Representatives member from Ohio, for bribery. Lukens accepted bribe payments from two Ohio businessmen to use his influence to intervene on an audit being conducted by the United States Department of Education (DOE) on fraudulently obtained Pell Grants and Guaranteed Student Loans (GSLs) by a trade school in Ohio named Cambridge Technical Institute (CTI). One of the owners of the school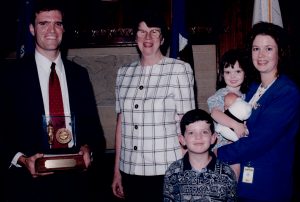 , John Fitzpatrick, was convicted of paying bribes to Lukens. (the other owner who had made payments to Lukens, Henry Whitesell, was murdered a few years before the court case)In 1995, Stuber received the U.S. Attorney General's Distinguished Service Award from the Attorney General of the United States, Janet Reno, for his work on the "House Bank" case.
While in WFO, Stuber also served as an undercover agent on a major health care fraud case investigated by the division. Stuber also represented the FBI by conducting firearms demonstrations and answering questions for audiences taking the FBI Tour of the J. Edgar Hoover Building in Washington, D.C.
In 1998, Stuber was transferred to the FBI's Charlotte Division and was assigned to the FBI's Resident Agency Office in Raleigh, North Carolina. Stuber was brought to Raleigh pursuant to a specialty transfer requested by Senior Supervisory Resident Agent (SSRA) John Werner for the purpose of developing a public corruption program to investigate unlawful activites of North Carolina political officials. While in the Raleigh FBI Office, Stuber was the FBI Case Agent on numerous high profile corruption investigations involving prominent political officials.
The following Timeline chronicles several of these cases:
2002 – Former North Carolina Secretary of Transportation Garland B. Garrett, Jr., convicted on charges of operating an illegal gambling business.
2003 – Ricky Godwin, a major owner and supplier of video poker machines. The Garrett and Godwin cases resulted from an undercover operation code-named "Double Black Diamond" that targeted the video poker industry and its connection to North Carolina political officials. The "Double Black Diamond" investigation resulted in the prosecution and conviction of numerous individuals and companies and forfeitures of over $10 million.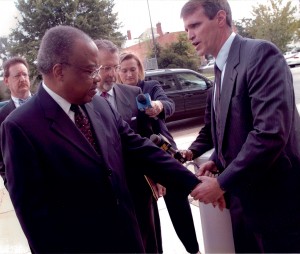 2004 – U.S. Congressman Frank Ballance and his son, District Court Judge Garey Ballance, prosecuted and convicted on criminal charges resulting from the misappropriation of government funds through Frank Ballance's non-profit organization, the "John Hyman Memorial Youth Foundation."
2006 – North Carolina House of Representatives member Michael Decker convicted for accepting $50,000 in bribe payments from North Carolina Speaker of the House Jim Black to switch political parties and support Black in his efforts to retain the Speaker position.
2007 – North Carolina Speaker of the House Jim Black convicted on federal corruption charges for his acceptance of illegal cash payments from several chiropractors.  Black was the Speaker of the House for four terms, which tied him for the longest tenure in that position in North Carolina history.
2008 – Boyce Hudson, a North Carolina Department of Environment and Natural Resources (DENR) official, convicted for negotiating a $100,000 agreement to use his official position to expedite a permit for a company attempting to establish an ethanol plant in eastern North Carolina.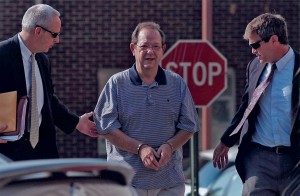 2008 – Jim Perry, the former Mayor of Wake Forest, North Carolina, and David Brady convicted for offering the $100,000 payment to Hudson. Evidence to prove the criminal activity of Hudson, Perry, and Brady was acquired via an undercover operation code-named "Troubled Skies."
2010 – Ruffin Poole, a close aide to N.C. Governor Mike Easley, convicted on federal tax charges related to his acceptance of illegal benefits from entities for whom he used his official position to influence the approval of permits on land development projects.
2010 – NC Governor Mike Easley pled guilty to a felony charge resulting from his acceptance of free flights while campaigning for the governor's office. Easley is the first N.C. Governor in history to plead guilty to a felony.
2011 – Former U.S. Senator and presidential candidate John Edwards, indicted for his role in the acquisition of hundreds of thousands of dollars in allegedly illegal campaign contributions which were used to cover up an extramarital affair between Edwards and Rielle Hunter and the child to whom Hunter gave birth. A jury in U.S. District Court later failed to convict Edwards of criminal charges.
Hostage Negotiator
Also, while serving in the Raleigh FBI Office, Stuber attended the FBI's two-week National Crisis Negotiation Course at the FBI Academy in Quantico, Virginia, in 2003. As a hostage negotiator, Stuber was involved in operations that resulted in the release of numerous hostages in domestic and international kidnapping cases. Notable hostage cases in which Stuber was involved included the abduction of journalist Jill Carroll in Iraq; the kidnapping of minister Tom Barron and four others in Haiti; and the abduction of Frank Janssen, the father of an Assistant District Attorney in Wake County, NC.
In June 2014, Stuber retired from the FBI after over 28 years of service. At his retirement ceremony, he was presented with The Order of the Long Leaf Pine signed by NC Governor Pat McCrory.
NC State Board of Elections work
Following his retirement from the FBI, Stuber accepted a position as the Chief Investigator for the North Carolina State Board of Elections (NCSBE). In that capacity, Stuber investigated numerous matters involving violations of North Carolina election laws and campaign finance rules and regulations, including complex campaign finance investigations, vote–buying matters, double-voter cases, absentee ballot fraud, felon voters, candidate fraud, voter impersonation, and many other matters involving election laws.
During Stuber's 1½ years as the Chief Investigator for the NCSBE, over 30 cases were referred to North Carolina District Attorneys for prosecution. Notable cases referred for prosecution included NC State Senator Fletcher Hartsell for misappropriating funds from his campaign, Chase Burns for substantial questionable campaign contributions to NC political officials and possible improper interference in the investigation by NCSBE Board Member Paul Foley, and former Charlotte Mayor Patrick Cannon for voting as a convicted felon.
While serving as the Chief Investigator, Stuber selected and organized a new investigative team for the NCSBE. Stuber developed and established policies and procedures for the team based on FBI investigative philosophy.
Volunteer Work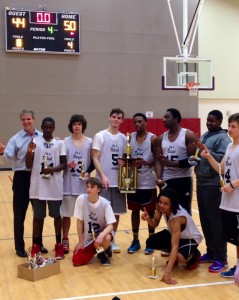 Stuber has coached baseball, basketball, and softball for over 20 years in youth leagues in Raleigh, North Carolina, and Vienna, Virginia. Stuber received the Harvey D. Karsevar Award from the Raleigh Parks & Recreation Department in 2004 and was the recipient of the Fred Fletcher Outstanding Athletic Volunteer Award in 2008. Stuber has served as a mentor for youth in confirmation classes at Highland United Methodist Church.
Personal Life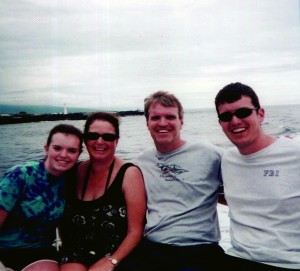 Stuber was married to Janet Clair McCowan in 1985. They had two children. Daughter, Andrea Marie Stuber, age 24, graduated with a degree in Interior Design from Meredith College and is currently working as a Designer in New Bern, North Carolina. She is married to Patrick Moholt, a Mechanical Engineer in Havelock, North Carolina. Son, Alexander Lee Stuber, graduated as a valedictorian from N.C. State University and worked as an Aerospace Engineer for the National Aeronautics and Space Administration (NASA) in California. He passed away in a car accident in California in 2013. Stuber, his father, and son are the only three generation family to be inducted into the Phi Kappa Phi Honor Society at N.C. State University.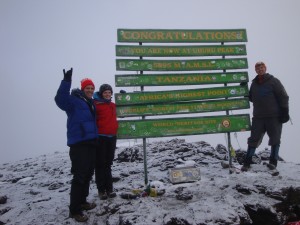 Stuber enjoys playing basketball and numerous outdoor activities, including softball, hiking, snow skiing and various water sports. As a certified scuba diver, Stuber has dived on the Great Barrier Reef in Australia, the Blue Hole in Belize, in Hawaii, Cozumel, the Cayman Islands, and numerous shipwrecks off the North Carolina coast. Stuber is an avid mountain climber and has summited Mount Kilimanjaro in Africa, Mount Fuji in Japan, and several 14,000 foot mountains in Colorado, including Mount Elbert, the second highest mountain in the continental United States. Stuber enjoys traveling with his family, and he has been to all seven continents in the world.